Midwest Banjo Camp offers highly specialized classes with subjects tailored to the expertise of our faculty. Most of our classes are "hands-on," meaning that teachers have a set of skills or a tune or two in mind to impart, and that students should have their instruments in hand during class. Following is a list of popular banjo classes from previous years.  Check out our 2018 Camp Schedule
Old Time
Intro to Round Peak Clawhammer
How to Play with Fiddlers: Concepts & Strategies
Wade Ward's 3-Finger Chording Style
The Clawhammer Styles of Fields & Wade Ward
Intro to Syncopation, Clawhammer Style
The Fundamentals of Drop and Double Thumbing
Grandpa Jones Songs & Tunes
Mastering the Mechanics of Good Tone
Western North Carolina Fiddle Tunes for Clawhammer
That Old-Time Rhythm
The "Chuck"and Other Rhythmic Space Fillers
Exploring Cumberland Gap Tuning
Banjo Pickin' Girls: Songs from the Coon Creek Girls & Cousin Emmy
Round-Peak Retrospective: Contrasting Creed, Jarrell, & Cockerham
Can That Tuner: Learn to Tune & Change Tunings by Ear
Bluegrass
Fitting in at a Jam: Hearing & Following Chord Changes
Intro to Melodic Bluegrass
Essentials of Single String
The Essential Earl: Licks & Techniques
Tone Color & Acoustic Special Effects
The Banjo Style of JD Crowe
Don Reno Techniques & Tunes
Blues Banjo: Improvising Over a Three Chord Harmony
Roll Logic: How the Rolls Work
Rock 'n' Roll, TV Themes & Other Stuff You Ain't Supposed to Play on Banjo
Scruggs-Style Picking in the key of C
Up the Neck Scruggs-Style Backup
Intro to Jazz Improvisation
3rds & 6ths: Playing Melody & Harmony Together
Walking Basslines, Texas-Swing & "Stride" Bass as Approaches to Backup
Picking it Solid: Achieving Clarity, Punch, & Timing:
From Bluegrass to Western swing: A New Slant on Bluegrass Chord Progressions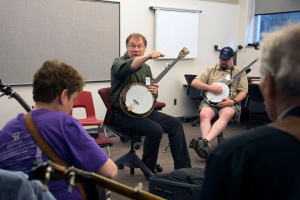 Levels and Tracks for Bluegrass & Old-time Banjo
All students at MBC are free to take any class at any time. You can move among levels, move freely between old-time and bluegrass, take classes in different instruments, and generally create a program that works best for you. We now offer four levels or "tracks" for both bluegrass and old-time banjo: Novice, lower intermediate, upper intermediate, and advanced. Here is how we define our levels:
Novice track
The novice program is designed primarily for true beginners: banjoists who have been playing a few months or less, or who have not yet learned even the most basic mechanics of either fingerpicking or the clawhammer stroke. If you already know these basics, we recommend diving into either the lower intermediate or even the upper intermediate programs. Even if they are a little over your head, you'll still be taking home vital advice and mental images that will guide your growth on banjo for years to come.
Lower Intermediate Track
Our lower intermediate track is for students who are beyond the novice stage but still need a lot of technical help on a variety of fronts -- such as efficient left hand and right hand techniques, building up speed and power, achieving good timing, basic song and tune arranging, and so on. Estimated minimum playing experience required: 6 months to 2 years.
Upper Intermediate Track
The upper intermediate track is for students who can play pretty well at a basic level, but are looking to increase their repertoires and playing efficiency, and expand their horizons. It is also designed to help your playing sound more authentic and professional. Estimated minimum playing experience required: 18 months to 3 years.
Advanced Track
The advanced track is for those who can already play up to (or close to) speed, but who are looking to grow further as musicians through learning from some of the world's best players. Estimated minimum playing experience required: 3-4 years and up.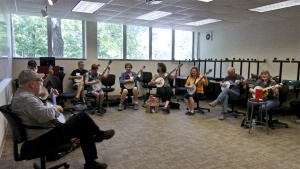 Our Track in 19th Century Banjo Styles
In 2017, MBC offered a a full-time track in Minstrel, or "stroke-style banjo." At the suggestion of instructor Greg C Adams, we now expand that focus and have created a track that features Minstrel, classic and other early banjo styles.
An ancestor of clawhammer, Minstrel or stroke-style developed in the 1840s and 50s and was the very first style of banjo playing to spread nation-wide and internationally. The Minstrel repertoire was the first distinctly American popular music form, and many numbers are still widely played by devotees of old-time, bluegrass and American folk music. Nowadays there is a very active Minstrel revival scene
Classic banjo is the pioneering fingerstyle approach to banjo that became highly popular in the last quarter of the 19 th century and beyond. Almost all those vintage 5-strings by such companies as Fairbanks/Vega, Cole, Orpheum, Bacon, and SS Stewart, were designed with classic banjo in mind. And of course, the rolls and picking techniques that gave rise to bluegrass banjo first developed during the classic era.
Click for more on the MBC 19th Century Banjo Program.
MBC's Full-Time Program in Tenor Banjo
For more on our 4-string program see the Tenor Banjo & Other Instruments Page.
Introducing the 5-String Banjo: a Crash Course for Absolute Beginners
On Thursday evening, MBC will run a special class for people who want to get started on banjo (or for those who have already gotten started and figure they need a quick review before diving into our novice program). The class covers the following topics: getting acquainted with the instrument, holding it, getting in tune, how to finger the strings and play a few basic chords, how to keep time by simple strumming, etc. For those who are undecided about which banjo path to pursue, our instructors will also demonstrate both bluegrass and old time styles on the banjo and explain some of the pluses and minuses about trying to learn each genre. "Introducing the Banjo" is open to all MBC Registrants.
Note:
Once you've registered for MBC, you may attend any class you wish at any time throughout our program. You do NOT have to pre-register for any track, class, or teacher. The questions on the registration form regarding interests and levels are only there to help us plan our program. They do NOT commit you to pursue any particular level, style, or instrument.
Although most of our instructors send students home with written tabs, chord charts, and other handouts, please understand that some very excellent teachers prefer to teach solely by ear. For this reason, we strongly encourage bringing a recording device to help you remember what was taught (the recording apps that come pre-installed in most smartphones these days are of sufficient quality for this task)