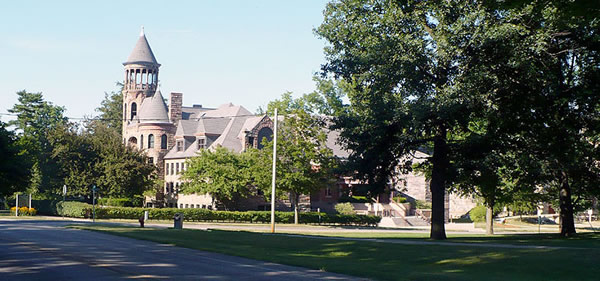 Midwest Banjo Camp is held on the Olivet College Campus in Olivet, Michigan. Olivet is about 30 miles southwest of Lansing and 12 miles north of Marshall off I-69. See our page of detailed driving directions. The nearest airport is Capital City Airport in Lansing (30 minutes). Also Grand Rapids airport is about 1-1/4 hours away; Detroit Metro and Flint airports are each about 1-1/ 2 hours away.
Map
Here is a map of Olivet College (our primary locations are #s 4, 10, 14, 25).
Classrooms
Classes are primarily in the air-conditioned C.S. Mott Academic Center, right across the street from the Shipherd dorm.
Parking
Parking is plentiful on the Olivet campus, with parking lots behind Shipherd Hall, the C.S. Mott Academic Center, Kirk Cafeteria, and more. See the grey areas on the map.
Climate:
Early June weather in Olivet is normally pretty moderate (average low of 56 and high of 77), but it can be quite warm and humid at this time of year. Although all the main buildings we will occupy at Olivet are air-conditioned, students will need to walk outdoors between buildings several times a day. To ensure that you're as comfortable as possible when you do venture outside, we highly recommend that before you pack your bags you check the weather report (one example: The Weather Channel / Olivet Weather), and select clothes that are appropriate for the projected conditions. Even if it's going to be hot, we recommend that you bring a light sweater or sweat shirt to wear indoors in case they crank up the a/c too high.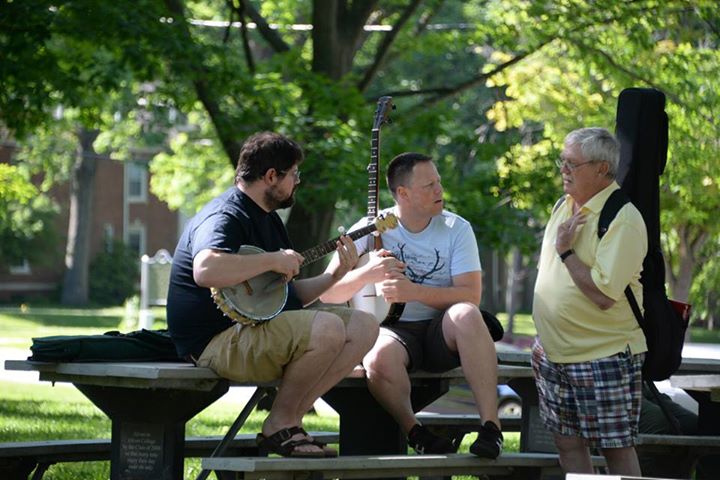 Local Transportation
Airport Shuttles. 
A Shuttle run by Olivet College/MBC that runs from Lansing's Capital City Airport to the Olivet Campus and back is available on Thursday beginning around 10:00 AM, on Friday morning from 10:00 AM until 2:00 PM, and Sunday from around noon to 3:30 PM, as Camp is coming to a close. Check one or both of the "need shuttle" boxes on the 
registration form
, and you will be charged a $25 fee for each direction ($50 round-trip).
Rental cars are available at the Lansing Capital City Airport. As of September 2017 you could rent cars via Travelocity.com beginning at about $30 per day. Your results may vary. We recommend reserving a car early to lock in the good rates.
Taxis. There are several taxi companies that service the airport. It's about a 30 mile ride one-way, and the last time we checked they gave us rough prices between $70 and $95 each way. We also checked Uber cab prices in October 2015; their one way estimates were $45 and $60, respectively. So, we strongly recommend using our shuttle or renting a car. FYI, if you do wish to take a cab, direct line phones to some taxi companies are right near the exit in the baggage claim area.