MBC's Newest Track: Jam-Skills for All Instruments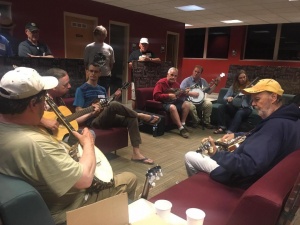 Over the years we have offered many classes focused on jamming from the banjoists viewpoint. We now figure that all our students could benefit from an opportunity to focus systematically on the many aspects that go into successful jam participation. So this year, we offer a special Jam Skills Track for All Instruments. The track gets underway on Friday afternoon and runs through Saturday afternoon, and is positioned so that you have the opportunity to try out what you've learned in class during the staff-led jams on Friday and Saturday evenings.
Instructors in the program are Janet Beazley, Jeff Burke, and Elizabeth Loring. See their bios on the Intsructors Page.
Our offerings in the Jam-Skills track cover the following five topics.
How to sing bluegrass and sound authentic (Loring)
Jam Etiquette and procedures (Burke & Loring)
Developing Ear Skills (Burke)
Tips on Soloing (Burke)
Intro to Bluegrass Harmony Singing (Beazley)
For this first year our focus is mostly on bluegrass jamming skills, and our jams-skills program is part time. Depending on student participation and comments, in the future we may make this a full-time track and also create a similar jam-skills track for old-time.
Need Your Feedback
We always appreciate student feedback on all aspects of Midwest Banjo Camp, and would like to encourage you to let us know what you think about the jam-skills track, either on our post-camp Evaluation Form, or any other time. Thanks!
Additional Jam Skills Help for Banjoists
As has been our practice for many years, there are numerous classes aimed at imparting various aspects of jam skills listed within our regular bluegrass and old-time banjo programs. See below for our jam-oriented offerings for both banjo styles.
More Jam-Skills Options for Bluegrass Banjoists at the 2019 Camp
The Joys of Jamming: Review & Practice Basic Jamming Skills (Janet Beazley)
Jam Survival: Concepts for Playing Along with Songs You Don't Know (Greg Cahill)
The Circle of Fifths & the Nashville Numbering System (Greg Cahill)
"Winging" Breaks in Jams: How to Solo on Common Chord Progressions (Janet Beazley)
Old-Time Jam-Skills Options at the 2019 Camp
We haven't ignored jam-skills help for old-time banjoists at this year's camp; it's just not organized neatly into a single track. There is a general jam-skills workshop at 3 PM Friday, during the session devoted to demos, conducted by fiddler Eden Pool and guitarist Beth Hartness. Then, scattered through the schedule are the following six offerings.
How to Pick Up Unfamiliar Tunes on the Fly (Frank Evans)
Playing with Other Instruments:  Capos, Chords & the Nashville  Numbering System (Adam Hurt)
Singing with the Banjo: How to Make Your Banjo a Duet Partner (Joe Newberry)
Be the Banjo Player in An Old-Time Trio: Take Turns Teaming up  . . . with Adam Hurt & Beth Hartness
Learning Melodies by Ear: How to Hear Core Tones & Fill Between Them (Lukas Pool)
The  Banjo-Fiddle Partnership: Take Turns Playing Duets  with Your Instructor (Jane Rothfield)