The MBC 19th-Century Banjo Track:
Minstrel Banjo, Classic Banjo & More
Experienced banjoists of any skill level are invited to take part in our "19th Century Banjo" track, taught by noted banjo player – and banjo-scholar – Greg C. Adams, assisted by another instructor TBA. The purpose of this track is to provide newcomers and experienced hands with opportunities to learn more about Early Banjo – banjo tunes and techniques from the 18th and 19th centuries, and their legacy in more recent playing traditions. We'll be using a variety of teaching methods – learning by ear, reading tab and using sheet music – while working together in both large and small groups. Depending on the number of people and the types of banjos they bring (e.g., a modern fretted banjo or an original/reproduction mid-nineteenth century banjo), the primary tuning we'll be using is gCGBD or the lower tuned equivalent dGDF#A.
Note: You can participate in the 19th Century Banjo track full time, take just one class, or anything in between.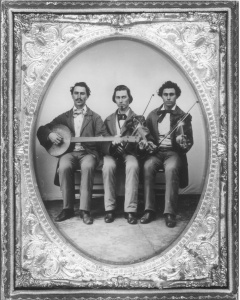 Early Banjo & Early Banjo Techniques: "Banjo Style" vs. "Guitar Style"
"Early banjo" is a phrase used these days to refer to all banjo music and references from early colonial times – when enslaved Africans created and perpetuated banjo traditions in the Caribbean and colonial North America – through the mid-19th century, when the banjo became internationally commercialized during what is now referred to as the "Minstrel Era." The earliest and best-documented playing techniques from this time period were first described in the 1850s and '60s by a series of instruction books called "tutors."
The repertoire in these books illustrates an African American playing technique that employs the same fundamentals as clawhammer banjo. During its heyday, this style of playing was known simply as "banjo style," "thimble style" or "stroke style." Banjo style resembles contemporary clawhammer in its general approach and method of striking the strings, but features quite a number of techniques that differ considerably from those widespread among contemporary clawhammer players. Although some of these techniques may prove challenging to learn, having them in your arsenal not only opens you to a whole new repertoire, but it's also bound to increase the breadth and depth of your conventional clawhammer playing.
These "tutors" also illustrate the evolution of finger-picking techniques on banjo, which at the time was referred to as "guitar style." These fingerstyle techniques came to be known as "classic banjo" or "classic fingerstyle," and were ancestral to both old-time fingerpicking and bluegrass 3-finger. Today, classic fingerstyle banjo techniques and repertoire are promoted by such organizations as the American Banjo Fraternity, and the Classic Banjo Community On-line.